4 Core Advantage
Low-Frequency EMS Pulse Technology—Electrical Muscle Stimulation current is conducted to the skin, and activating the cells of the human body, prevents soreness caused by muscle stiffness. Promotes blood circulation and relaxes the feet.
Smart Acupoint Capture—Through accurate acupoint massage, it will be a more comfortable experience.
8 Massage Modes & 19 Levels Intensity—Tapping mode, Massage Mode, Stimulation Mode, Training Mode, Kneading mode, Sharping Mode, Scraping Mode, Elbow Pressure Mode, Plus 19 Levels of intensity, you will be a more effective massage for feet.
Light Weight & Portable—A soft and comfortable foot pad, lightweight, foldable, and easy to carry anywhere. You can have a little relaxing Therapy wherever you go.
TAKE A BREAK! RELEASE YOUR FEET PAIN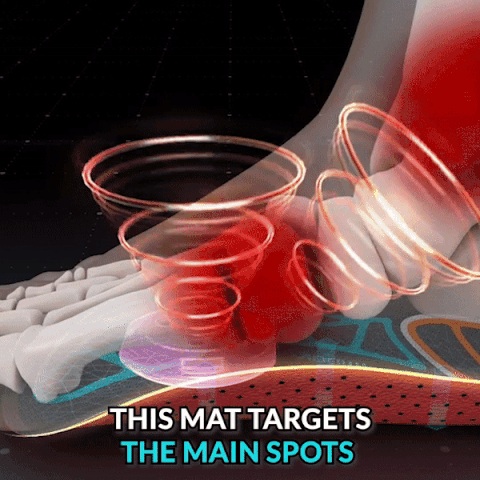 PACKAGE INCLUDES
1 x Foot Massager Pad
DISCOUNTED PRICE FOR ONE SET~ N9,500 TODAY ONLY
Buy 1 for N9,500 (FREE delivery)
Buy 2 for N"18,000 (FREE delivery)
Buy 3 for N26,000 (FREE delivery)
PLEASE READ OUR DELIVERY POLICY BELOW BEFORE YOU ORDER
We deliver to Lagos and Abuja

PLEASE DON'T ORDER IF YOU ARE NOT IN LAGOS or ABUJA

PLEASE ORDER THIS PRODUCT ONLY IF YOU ARE READY TO PAY AND RECEIVE ON DELIVERY.
PLEASE FILL THE FORM BELOW TO PLACE AN ORDER & WE WILL CALL YOU TO CONFIRM DELIVERY ?
If you have questions, please click here to chat with us on WhatsApp
Vivashop is a registered company based in Lagos.
We are located at Excellence hotel, Ogba, Lagos